Hey everyone,
We've got a quick holiday update for you. We're making Half + Half free for the holidays, and we've added a new game mode called Starball :)
Starball
With its smooth movement, serene environment, peaceful music and the sound of wind rustling between your ears, it's no wonder that Glider has been one of the most loved and played experiences in Half + Half.
Knowing this, we wanted to expand the world of Glider in Half + Half and bring another layer of fun and competition in so you can enjoy it even more.
Today, we're announcing Starball, a two-versus-two competitive, action-packed aerial soccer game. Starball uses the Gliding mechanic and world we've all come to love and adds a new playing field in the sky for an addictive and insanely fun competitive game.
Score by bumping the Starball into the other team's goal, using your Glider to boost and strafe around opposing players to keep control of the ball and defend your team's goal.
Matches last five minutes, and the team with the most points wins. For a bonus point, try knocking the Starball into the small circle goal above the main goal!
Head over to Homeworld and find the new Starball door to try a match starting today!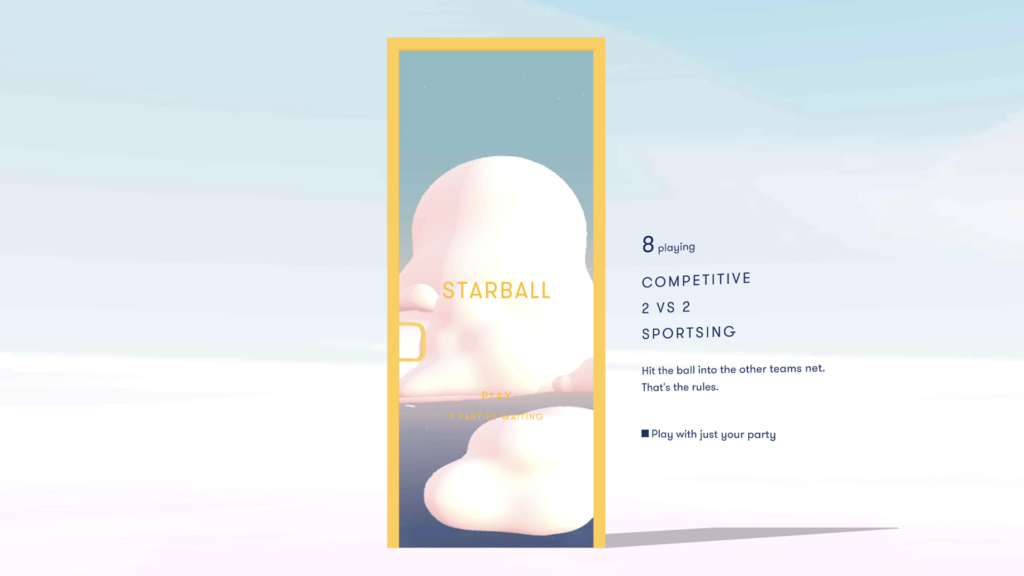 Rich Presence + Destinations
Half + Half was made to be shared with others, which is why we're excited to announce our support for Oculus's new social APIs to help you find and meet up with your friends in Half + Half.
The Rich Presence API provides a way for your friends to see what game or application you're running on your Oculus headset, and even what minigame or world you're visiting. If you're in a party with a friend on Oculus Home, head to the "Parties" tab under "Social" and search for their name. You'll see their current status and location displayed.